The official opening of the Leuna Lechesa Building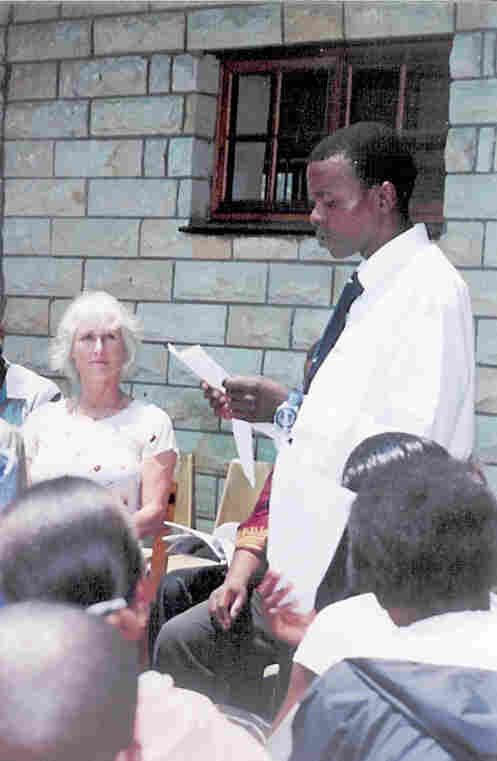 I am Mosala Raboko, a former learner at Seliba Sa Boithuto.

When arrangements were made to establish Seliba Sa Boithuto, I was helping, but I didn't understand how the system was going to work. The only thing I saw was the beauty that would come in the future. I decided to test it myself and to see the promises that were hidden behind the idea of self-study. Today I can confidently say to you, ladies and gentlemen, the so-called "stand up and go to do it yourself" works very well. I have tasted it and find it the best.

The purpose of self-study is to make everybody a success and not a failure. I do believe that nobody is born to be a failure and that all of us want to be successful at all stages of life. Self-study is meant to re-build those who think that they are too old to study, or that they are on the reserve side of the failures.

Sometimes I find it difficult to take somebody's story and interpret it to a third person. Yet, how can you call me a failure just because I was not able to transmit somebody else's information? I think you can agree with me, that when you practice things it is always easier than just to read it.

Ladies and Gentlemen: let me now tell you our secret of learning here at Seliba Sa Boithuto. Our slogan is Peer-Learning, that means we study in groups of two or more. I know, when you sit next to me, I will take advantage of you, so that I turn away from my side (self-study) to your side (our-study) and then begin to learn from you.

After realizing that I had studied enough, I promoted myself to General Managing Director in my own company. I became a leader in more than five organisations. I even have attended two international meetings as a local and international leader.

Ladies and Gentlemen: before I finish my speech, let me tell you how nicely this self-study system builds up those who believe in it:

Self-study gives birth to Responsibility gives birth to Discipline gives birth to

Self-esteem gives birth to Success gives birth to Champion gives birth to Responsible Citizen.