The official opening of the Leuna Lechesa Building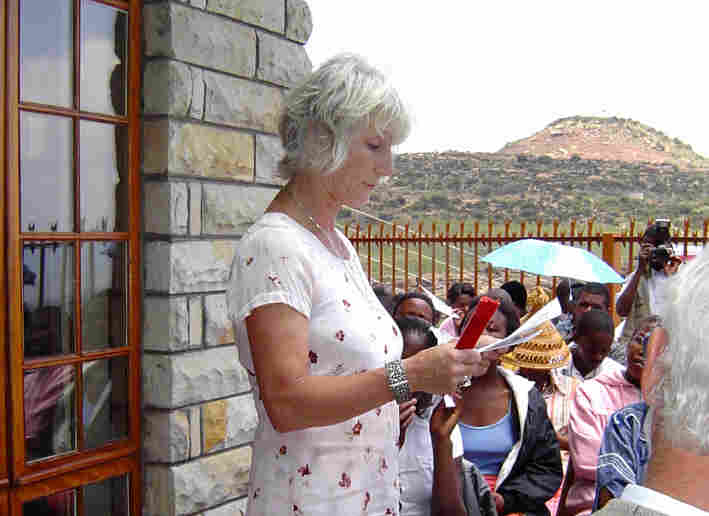 Honourable Minister, invited guests, Ladies and Gentlemen,

My name is Pauline Mathot and I am a sister of Gerard.

I speak today as the representative of the overseas friends of SSB. I am the treasurer of the Foundation SSB that supported this great project from the Netherlands.

The Dutch people like to support small projects, organised by local people.

We think that is the way to be sure that money will be used in the most direct and efficient way. This is the kind of projects people like to contribute to.

My brother Gerard had the idea to open a centre where students could meet and study together. Not a school but a place where there are facilities to work together, such as books and computers. His friend Leuna Lechesa supported him and together with other people who recognized the importance of that idea the SSB Trust was founded.

Leuna was a very dear friend of my brother. Leuna has been in Holland often and became a good personal friend of us. So sad that he passed away.

The donors of the foundation in Holland consist of our family, friends and various organizations. Now I want to give attention to two special persons:

1. Mrs. Christine Obermann, my predecessor for many years of the Dutch Trust. I will read her message she sent to you.
2. There is also a message from Mr. Pierre Janssens, who contributed 23% of the money collected. I quote:
In my mind I see students coming in groups of tenth walking around in a quiet surrounding with study books and all kind of equipments such as computers in preparations of the exams. Working together thus giving shape and content to the ideal of being responsible for your own learning.

We see today the physical result of all these efforts. It proves once for all that if there are good plans and the right people do their utmost great results can be achieved.

When we return home we show the donors what has been achieved. But ... there must be money to pay for the maintenance and supplies in the future. We hope the donors will be so generous to continue their support.

To conclude we wish the centre and the people that will work and study there a happy future and I would congratulate you all with the result achieved.

May God bless you.