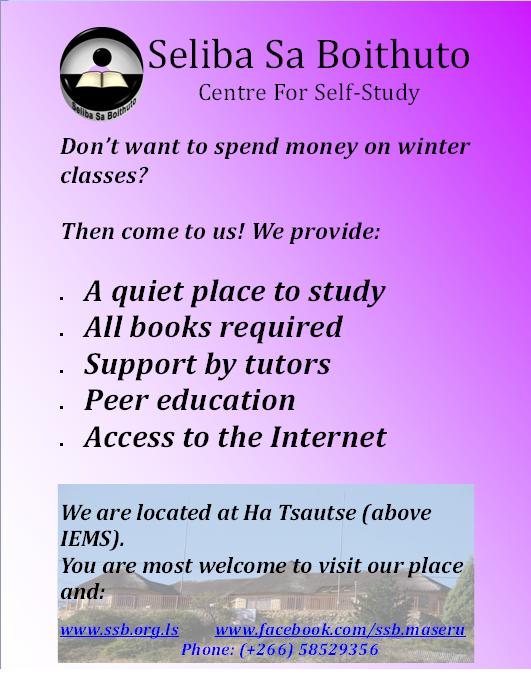 Selbia Sa Boithuto advertisement campaign
Your school is closed for summer, but you need to prepare for upcoming exams?
You don't want to spend too much money on winter classes?

Then come to us! Seliba Sa Boithuto is a Centre For Self-Study which was founded in 1992 and since 2005 resides in its own building.
We are located at Ha Tsautse which is on the hill above I.E.M.S. (Institute of Extra Mural Studies; next to Convention Centre).

We are going to offer you:
»

Support by tutors

»

A quiet place to study

»

A computer room and free access to the Internet (For educational purposes!!)

»

All books you need to prepare for your exams

»

The official Syllabi and exams paper of the last years

»

The chance for peer learning with other students
Please be aware of the fact that we are not a school which means that you won't have a teacher and we are not going to supply you with timetables.
However, you can ask our highly educated tutors once you are stuck and we will create a study plan together with you and a timetable if you like.
But it's you who is responsible how seriously you are going to take your studies. We won't force you, we believe in your own will!

You decide what you are going to make out of your life!!